Star Gazing
According to an interview with Demi Moore featured in a recent issue of French Marie Claire, the actress is adamant that she has not undergone any plastic surgery. The 46-year old actress looks as stunning as ever, causing speculation as to what she is doing to maintain her timeless beauty.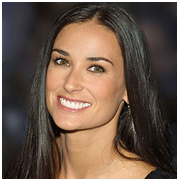 We could talk all day about the celebrities who have undergone procedures ending in unfortunate results, but we hardly talk about who is doing it right … primarily because they are doing it so right that we don't know that they're doing it at all. And yes, I do understand that genetics and timeless beauty play a role in some of this. But, those of us who are "in-the-know," know that there are other forces at work here too.
Regular maintenance, coupled with the know how to make small, subtle changes, are the key to prolonging a natural, youthful look.
The 30's
The 30's are a time to really beef up your skin care regimen.  This is when the early signs of aging really start to show in your skin. The five tenets of good skin care are to cleanse, exfoliate, moisturize, repair, and protect.  In English, that means a cleanser, a gentle exfoliant a few times a week, a non-comedogenic moisturizer to balance your skin, a reparative product like a retinoid to build collagen or an antioxidant like vitamin C to neutralize free radicals, and a sunscreen.  Laser treatments like IPL photofacials or Fraxel treatments can go a long way to restoring a youthful glow by evening out your complexion.  And if you have furrows and fine wrinkles, Botox may be a good option to prevent them from getting deeper.
The 40's
The 40's are a time when the effects of gravity really start to settle in and the face starts to lose facial fat.  Eyelids start to get droopy and baggy, cheeks start to get hollow, and the neck and jaw line starts to sag.  Different people have different rates of aging.  These changes can start in the mid to late thirties for some.  Others may not notice these things until well into their 40's.  In general though, subtle facial cosmetic surgery tweaks freshen up your face.  These smaller procedures most commonly include eyelid surgery or brow surgery to wake up your eyes.  Liposuction under the chin or a natural neck and jowl lift may be appropriate for others.
Often the best results are some small surgical procedures combined with the noninvasive fillers and Botox to restore facial fullness and erase fine lines.  Laser resurfacing to improve the quality of the skin can also complement nicely.  I call this the multimodal approach to combating aging.  And I would bet that this is what Demi has been doing all along.
The 50's and 60's
The 50's and 60's are definitely the decades when surgery tends to be the best option for freshening up.  Gravity has definitely set in, and often just the noninvasive treatments are not enough to get you the result that you want.  The face and necklift is usually the cornerstone to a successful facial rejuvenation in these decades.  I recommend a very natural approach because I think that this stands the test of time.  Who wants their "designer" facelift to go out of style?!    This is also the time when the multimodal approach is very effective, as the surgery will fix the contour problems and the dermatologic tools will improve the skin quality.
Did she or didn't she??  And so, whether she did or didn't, we salute Demi, along with Cindy Crawford, Brooke Shields, and Michelle Pfeiffer, for being ageless beauty icons and for making 40 the new 20, and 50 the new 30.