Facelift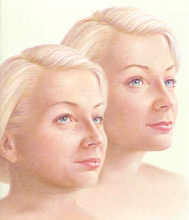 A facelift, also called a rhytidectomy, is a plastic surgery procedure designed to correct the loose sagging skin and deepening folds in the cheek, jowl, and neck areas that occur with aging. (Figure 1) As we age, the skin and underlying tissues loose elasticity. Sun exposure can hasten this process and further contributes to an aged appearance by diminishing the overall quality of the skin. Dr. Chang favors the SMAS-Platysma Facelift for its long-lasting and natural-appearing results. It is a technique for which she has acquired specialized training in order to perfect.
In order to understand how the SMAS-Platysma facelift achieves these goals, one must first understand a few anatomic structures and how they change with natural aging. Beneath the facial skin lies a structure composed of connective tissue called the superficial musculo-aponeurotic system, or SMAS layer. The decent of this layer due to aging and loss of elasticity causes the deepening of skin folds between the outer edges of the nose and lips (also called the nasolabial folds) and the sagging folds of tissue that fall below the jaw-line (also called the jowls).
In addition to the SMAS layer, the laxity of another structure called the platysma is pivotal in causing the aged facial appearance. This structure is the thin sheet of muscle that covers the front of the neck. One of its functions is to depress the lip when we smile, talk, and eat. Over time, with repeated contractions of this muscle, we develop vertical bands in the neck. Increased laxity of this muscle also occurs with aging, causing the neck to fall. We lose the crisp tight angle that used to exist between the chin and the neck. Fatty deposits collect under the chin and contribute to the double chin appearance that occurs.
The SMAS-Platysma facelift is designed to correct the laxity of the SMAS and platysma, thereby correcting the changes caused by aging in the most natural and anatomically sound way. In order to perform a SMAS-Platysma facelift, the skin on the face and neck is lifted through cosmetic incisions located in, around, and behind the ear and in the scalp. (Figure 2) Next, the SMAS and platysma layers are elevated. These layers are then lifted and pulled in order to correct jowling, lift the cheek, and tighten the neck. All of the tension is concentrated on these underlying layers. The skin is then redraped in a soft natural way. Because all of the pull is concentrated underneath, you can achieve a full correction of the signs of aging without the pulled look. (Figure 3) Dr. Chang uses these powerful techniques in order to give you the most complete and longest lasting rejuvenation possible. Her customized natural aesthetic allows you to achieve this rejuvenation without compromising your own natural look. The result is understated and beautiful, but never underdone.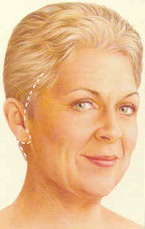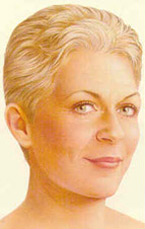 Often Dr. Chang utilizes liposuction under the chin along with the SMAS-Platysma facelift in order to further define the neck. Other procedures such as a browlift and/or blepharoplasty (eyelid lift) can be performed at the same time as a facelift. Some patients may desire only a correction in the neck area or the facial area. These smaller procedures can result in shorter incisions. Dr. Chang will advise you as to your suitability for these.
Because a facelift is designed only to correct the contour problems associated aging in the face and the neck, often Dr. Chang will suggest adjunctive procedures such as laser resurfacing or injectables in addition to your facelift to improve your overall skin quality, thus further enhancing your overall result. This multi-modal approach can truly achieve a state-of-the art aesthetic result.
Dr. Chang performs all of her facelifts in a fully licensed San Francisco hospital with board certified anesthesiologists in order to maximize your safety and comfort. She also recommends her patients stay overnight in the hospital with a private nurse at the bedside. This specialized care during the first 24 hours greatly lessens your chance of complications and speeds up your overall recovery time by minimizing your initial bruising and swelling. Dr. Chang feels that these precautions provide her patients with the safest experience and allows her to deliver the highest quality result.
Most patients go home after one night in the hospital with supervision. And surprisingly, most report very little pain, just more of a feeling of discomfort and numbness for which pain pills or sedatives are more than adequate.
Dr. Chang recommends that her patients take at approximately 1.5-2 weeks off from work to allow the initial healing to occur. Recovery times can vary among individuals. In general, however, the greatest amount of swelling occurs 24 to 48 hours after surgery, and by 1-1.5 weeks the vast majority of swelling and bruising is resolved. Most patients feel comfortable interacting with others at this time, especially with a little makeup. The final resolution of all swelling may take several weeks to months, but luckily this will not be perceptible to others. For out-of-town patients, Dr. Chang recommends purchasing an exchangeable return plane ticket for 10-14 days after surgery.
Straining, bending, and lifting should be avoided during the early postoperative period. Dr. Chang will provide you with an extensive instructional packet that outlines your post-operative precautions and provides many tips for how to best navigate this time. In most instances, you will be able to resume most of your normal activities within one and a half weeks and begin full exercise at three weeks after surgery. After three weeks, there are no restrictions to your activities.
Dr. Chang believes that one of the most important aspects of successful facial surgery is minimizing downtime. She uses careful, gentle, and meticulous surgical techniques in order to minimize trauma and bleeding. Extensive preoperative and postoperative instruction and close follow-up will be provided to you in order to minimize unnecessary anxiety. You will be directed as to specific medication and care regimens designed to minimize bruising and swelling. We will assist you with makeup and skin care products that will encourage healing and promote confidence in your appearance. All of these things will help make your recovery as fast and trouble free as possible.
Although Dr. Chang takes every precaution to provide you the smoothest experience possible, as with any surgery, complications can occur. Fortunately, significant complications from facelift surgery are infrequent, and most of the complications that may occur are easily remedied. Some of the potential complications that can occur include bleeding after surgery that causes a hematoma (an accumulation of blood under the skin that may require removal), infections, skin circulatory problems, and reactions to anesthesia. Injury to underlying structures, such as nerves, is possible, although extremely rare and most often temporary. Although most facelift scars heal inconspicuously, this is not entirely predictable. These problems are usually minor and can most often be treated with simple procedures in the office.
You can greatly help minimize certain risks by following Dr. Chang's advice and instructions both before and after surgery. Most patients experience a problem-free facelift, and as a result, facelift surgery is one of the most positive things that you can do to enhance you appearance and your confidence.
The SMAS-Platysma facelift is designed to provide you with a natural appearance and a long-lasting result. Patients find that their friends and colleagues think they look better but cannot figure out exactly why. They routinely report that people think they have lost weight or have gone on vacation or have even changed their hairstyle. Patients also experience a renewed sense of confidence and comfort in that their outer appearance is now more in sync with how they feel about themselves internally. Your SMAS-Platysma facelift should be very long-lasting. Because your internal structures have been tightened anatomically, you will go on to age from a new set-point, and most people will not ever feel the need to repeat this procedure, as they will age more gracefully. It is for all of these reasons that Dr. Chang considers facelifts one of the best and most effective plastic surgical procedures available.
SMAS-Platysma facelift and endoscopic browlift
SMAS-Platysma facelift, endoscopic browlift, blepharoplasty
SMAS-Platysma facelift, endoscopic browlift, upper and lower lid blepharoplasty
SMAS-Platysma facelift, endoscopic browlift, upper lid blepharoplasty
Fully healed facelift scars
SMAS-Platysma facelift, endoscopic browlift, upper and lower lid blepharoplasty
This gallery represents only a small selection of photos available for viewing. Additional before/after results are available at the time of your appointment.
Before and After Photos – individual results may vary