My staff and I truly appreciate all of the heartfelt thanks that we have received over the years from our wonderful patients. It makes us want to get up in the morning!
Here we share with you some of their comments.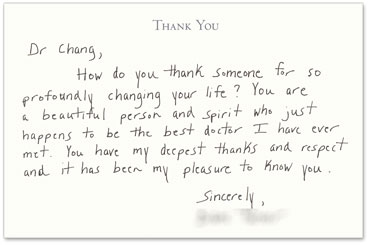 Dr Chang,
How do you thank someone for so profoundly changing your life? You are a beautiful person and spirit who just happens to be the best doctor I have ever met. You have my deepest thanks and respect and it has been my pleasure to know you.
Sincerely, D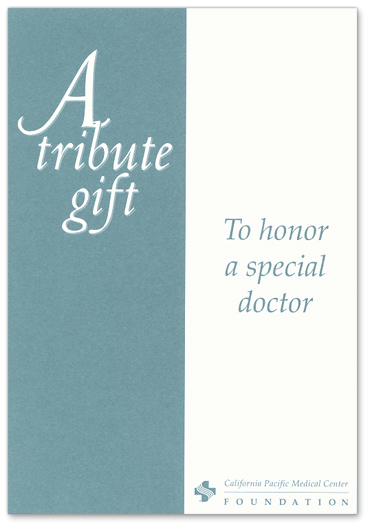 A donation made to California Pacific Medical Center in honor of Dr. Chang:
Thank you so very much. Not only are you a #1 doctor, you're a wonderful person. Thank you for your dedication to your profession and to women's health.
M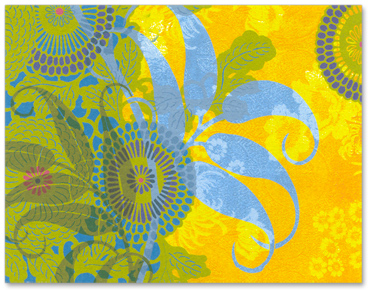 Dr. Chang,
I feel so blessed to have you as my surgeon. I'm so thankful Dr. Arjomand recommended you. I can't begin to tell you what an impact this surgery has had on my life. I feel like a new person! Thank you so much for being such a great and compassionate doctor. I always feel good after a visit to your office. Thank you again for everything you have done for me.
Sincerely, J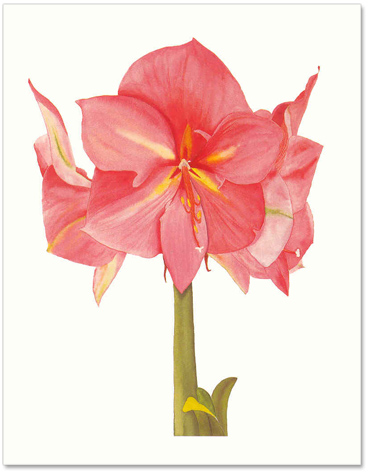 Dr. Chang,
Just wanted to thank you from the bottom of my heart (and bosom). I love your work!! Thank you, thank you … a million thanks,
K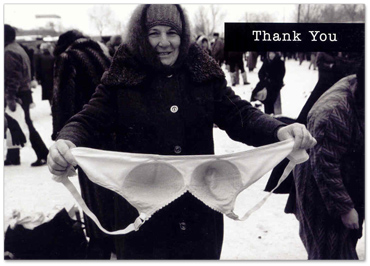 Dear Dr. Chang and Staff,
My cups (don't) runneth over (anymore)! Thank you so much for everything. I'm so happy that, after so many years of wanting to do this, I did it; and thanks to you, it is just the way I imagined it would be. You did a wonderful procedure!
Many thanks, P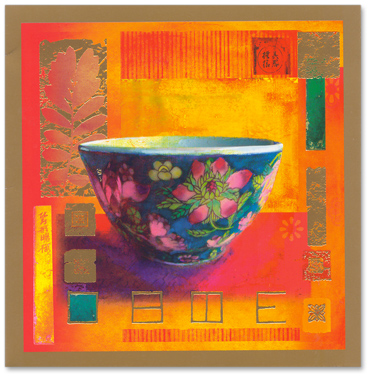 Dear Dr. Chang,
I just wanted to thank you for making me so beautiful! Even though I'm only in the 1st week of recovery I am already so happy. What I love about working with you is that you are so accurate with what you say and what actually happens. I feel I can trust you completely. Your work is so well done, I am so proud of my new shape.
Thank you again, K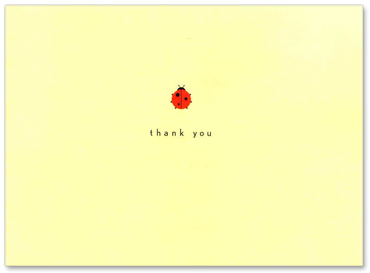 Dear Dr. Chang,
Thank you! Thank you! Thank you! So much!
XXX OOO, S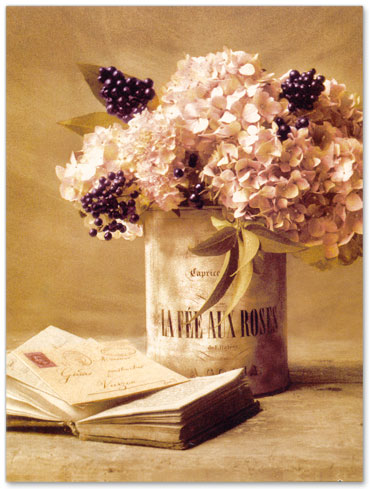 Dear Dr. Chang,
I wanted to take this opportunity to personally thank you for your exquisite work! I couldn't be happier and wanted to express my gratitude once again for making this process so easy and worry free for me. You truly do perform miracles with your hands. Thank you so much.
Sincerely, J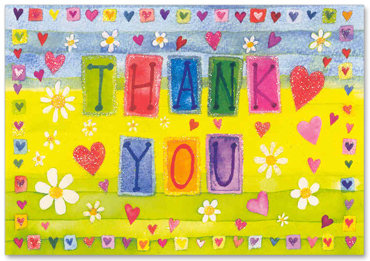 Dr. Chang,
Thank you so much for making this experience 100x's better than the first. Everyone was great. I love all of the positive energy.
Thanks again, M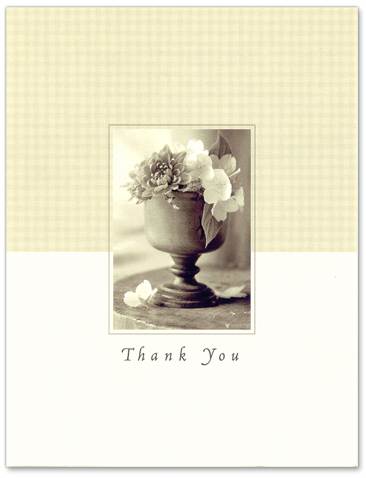 Dr. Chang,
Thank you so very much. I could not be happier with my face. Like my stomach, it is a work of art (and science)! May you live forever in legend and song.
E
P.S. You have a wonderful staff.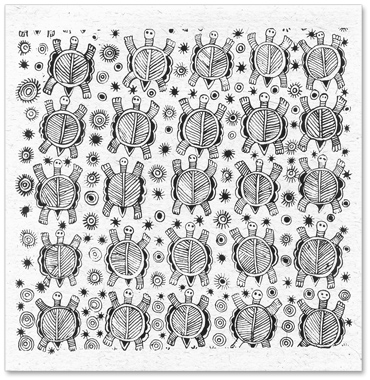 Dear Dr. Chang,
I just wanted to drop you a note to say thank you again for the eyelid surgery. You did a wonderful job and I've gotten lovely compliments on the results. Also my thanks to your warm and caring staff. Yours Truly, Happily back standing on my head regularly.
S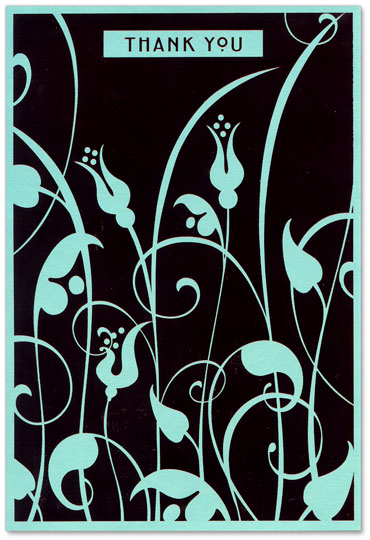 Dear Dr. Chang,
Thank you so much for your amazing skill and artistry in transforming my face and, by the way, me at this important time in my life. As you said, this was truly meant to be, I see that now so clearly – for many reasons, not just the obvious. You are truly gifted and a powerful healer, and magician extraordinaire!
XO, L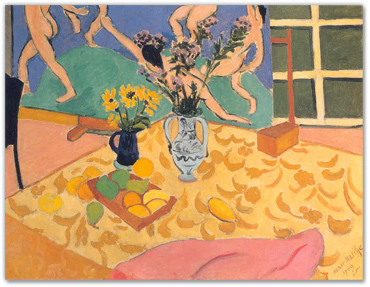 Dear Dr. Chang,
I just wanted to let you know that I went for my first post-op mammogram today. It was actually less uncomfortable than it used to be. But the best part was this: the mammo tech said, "I don't know who did your BR (breast reduction) but whoever it was did a great job!"
Thanks again, J
---
ONLINE TESTIMONIALS
Read what patients are saying about Dr. Chang online.

SFMOM O
San Francisco, CA
There aren't enough superlatives out there to describe the fabulous Dr. Chang. She epitomizes the philosophy of plastic surgery being a means to help each person look their individual best. She is not one to provide porn star boobs, cookie cutter noses, nor stretch your face to Joan Rivers proportions. She will help you look like YOU, only more refreshed. She is both a technical whiz and an artist.
There is a reason why she is one of the most sought-after plastic surgeons in San Francisco, a town full of excellent plastic surgeons…
To read more click here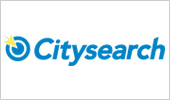 Masterful Plastic Surgeon
Pat Newman
Dr. Chang is a gifted surgeon with a fine eye for natural results. My dear friend and I had facelifts together. It was a wonderful experience. Dr. Chang's office was very professional and supportive. Doing this with a friend, and recuperating together, was a very special experience. I know four patients of Dr. Chang's, including myself, and we are a …
To read more click here

Krista b.
After four kids and a husband who told me my breasts looked like the women in National Geographic, I decided to get a breast lift. I asked around and Dr. Carolyn Chang's name came up repeatedly. However, I still interviewed three other well known doctors. Moments after…
To read more click here

Marian C.
I can't say enough good things about my experience with Dr Chang and her staff. I had a full face lift and the results are terrific. Her follow up is great too. I healed quickly with very little bruising and the best part is that I look very natural, just like my photos taken many years ago.
To read more click here