Say Good Day to Grey
Congratulations to Mia Caybut – my hair colorist extraordinaire of 10 years, who was just named San Francisco Magazine's 2009 Best of the Bay and SF Gate's Readers' Choice!
Over the years Mia has taken my hair from dark to lighter and back again, but recently I have been getting increasingly worried about a new phenomenon, grey.  People with darker hair often notice those little grey hairs earlier in life.  I am certainly one of them, and although I'm not quite there yet, I wanted to know how Mia was going to help me with this fast approaching new hair dilemma.
In order to strategically hide those grey hairs and maintain a more youthful appearance longer, Mia has created an innovative technique she calls HALO. She applies a lighter tint around the face.  This matches the color of the fine hairs that frame the face.  She then applies a darker tint on the rest of the hair.  Mia says, "This works really well on people who have allowed dark tint to grow out and are ready to go lighter."
When the time comes, then, I'll let my roots come in, and then I'll make an appointment with Mia for her rejuvenating HALO treatment!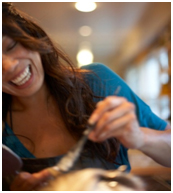 For more information on Mia, visit www.colorbymia.com