Another Anti-Aging Recipe From Chef Elizabeth Howes
My friend and personal chef, Elizabeth Howes, has done it again! She has provided us with yet another delicious recipe full of wonderful antioxidants.
As we discussed in an earlier post, foods that contain antioxidants such as beta carotene, lutein, lycopene, selenium, and Vitamins A, C, and E can dramatically boost skin health and help ward off signs of aging from the inside out.
Take some time this week to indulge in the recipe below, and watch your skin glow… Enjoy!
Roasted Organic Beets and Carrots with Ras el Hanout Vinaigrette, Meyer Lemon Chickpea Purée and Grilled Whole Grain Naan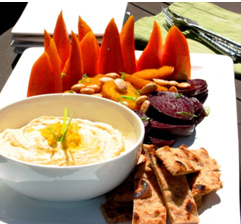 Yield: Makes 6-8 appetizer servings | active time: 30 minutes | total time: 1 hour, 15 minutes
Ingredients
8 organic beets (red and golden), cleaned, trimmed
6 medium organic carrots, cleaned, peeled and trimmed, and cut into wedges
2-3 medium whole grain naan, grilled on a grill pan or outdoor grill until crisp
Handful Marcona or slivered almonds
Vinaigrette
1 ½ tablespoons aged balsamic vinegar
1 teaspoon ras el hanout*
Sea salt and freshly cracked black pepper, to taste
3 tablespoons extra virgin olive oil
Meyer Lemon Chickpea Purée
2 cans organic garbanzo beans (or 4 cups fresh)
Juice of two organic Meyer lemons, zest of one
1 clove crushed garlic
Sea salt and freshly cracked black pepper, to taste
3 tablespoons extra virgin olive oil
½ cup filtered water, if needed
Preparation
Preheat the oven to 400 degrees.  Wrap red beets and golden beets in foil separately so the colors don't run together.  Place on a baking sheet and roast for 35-45 minutes, or until fork tender.  Toss the carrots in olive oil, sea salt, and pepper, and roast in an uncovered glass baking dish for 15-20 minutes, tossing once, until fork tender.  Let all vegetables cool.
In a glass bowl, combine balsamic vinegar, ras el hanout, sea salt, and pepper.  Whisk in olive oil until vinaigrette is emulsified.
For purée, place all ingredients except olive oil and water in a food processor.  Pulse until mixture is well-combined.  With motor running, drizzle in olive oil slowly.  If mixture is too thick, add water slowly until smooth.
Toss vegetables with some of the vinaigrette in separate bowls and arrange on a large platter, topping with almonds.  Place purée in a glass bowl and garnish with lemon zest and a drizzle of extra virgin olive oil, if desired.  Cut grilled naan into wedges and place next to chickpea purée.
Antioxidant Profile
This fun dish covers so many antioxidant bases in one delicious bite.  The carrots and beets are high in vitamins A and C and beta-carotene.  The citrus also contains high levels of vitamin C.  In general, vitamin C is critical for collagen synthesis, and all anti-oxidants help to eliminate free radicals which can lead to wrinkles and skin damage.  Vitamin E is found in the chickpeas, almonds, and whole grain naan.  It is vital in protecting skin cells from UV light, pollution, and other elements that produce cell damaging free radicals.  If that's not enough, it also helps reduce the appearance of fine lines and wrinkles.
In addition, many of the spices found in ras el hanout, including clove, cinnamon, and turmeric, contain powerful antioxidants that can protect against skin cell damage.
*Ras el hanout is a popular blend of herbs and spices that is used across the Middle East and North Africa. The name means "head of the shop" in Arabic, and refers to a mixture of the best spices a seller has to offer.  Generally, it consists of some combination of pepper, cardamom, mace, cayenne, fennel, ginger, nutmeg, allspice, cinnamon, cloves, turmeric, lavender, and dried rosebuds.  It can be found at specialty grocers or spice shops.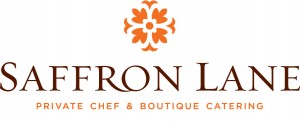 For more information about Elizabeth and Saffron Lane, please visit www.saffronlane.com.